GUWAHATI: In a major technological breakthrough research by Indian scientists, a research team comprising of experts from the
North Eastern Hill University
(NEHU), Shillong and
Adamas University
, Kolkata has expedited works to plug gaps in
Covid-19 testing
by developing 'less-harmful' and 'cost-effective' Terahertz radiation (T-Ray) Thermography device.
This is going to be a potential alternative to Thermal Infrared scanners and CT imaging for early detection and safe monitoring of nCovid-19 patients. Researchers Moumita Mukherjee, Associate Dean of Adamas University (Kolkata), who was formerly associated with the Defence Research Development Organisation (DRDO) and Dinesh Bhatia, Associate Professor at the Biomedical Engineering Department of North Eastern Hill University (NEHU), Shillong and their collaborative research group is working actively in developing Artificial Intelligence (AI) based T-Ray scanning unit to address the limitation of presently available infrared thermal scanner in accurate and early detection of nCOVID-19 patients.
In a statement, Mukherjee and Bhatia, said that the unique absorption fingerprint of T-Ray radiation in lungs and the contrast thermal image of affected and healthy lungs will help the doctors and the paramedical staff to identify such cases at an early stage, when the patient is apparently asymptomatic and not showing any virus symptoms. Bhatia is helping in the analysis and extraction of biomedical images by incorporating Artificial Intelligence, while Mukherjee is looking after the design and implementation of the device.
"The product will be cost-effective, allowing quick diagnosis with accurate in screening and monitoring of mass population. Their extensive research is showing a ray of hope in easy identification followed by safe monitoring of nCovid-19 patients worldwide. They acknowledge the support of their respective institutions for carrying out this research study," read the statement.
With highly limited supply of Covid-19 test-kits in India and rest of the world, Bhatia said that people with mild symptoms are less likely to be tested. This, he said leaves many people in the dark as to whether cold-like symptoms are just the sniffles, or a mild case of novel coronavirus, making them potential source of spreading the contagious virus in the society.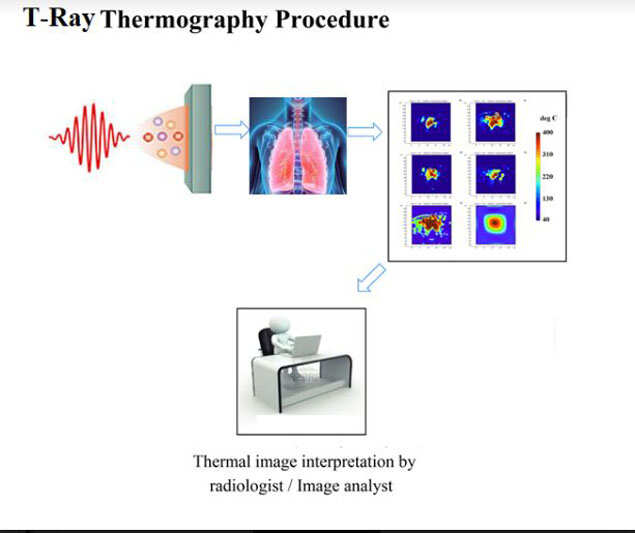 "Thermal screening or Infrared based devices which are presently being adopted for temperature sensing at airports, railway stations and for surveillance in institutions have major limitations in accurately identifying asymptomatic individuals carrying the virus and such cases go undetected for days," added Bhatia. He said that the potential of non-ionizing Terahertz radiation (T-Ray) imaging applied for biomedical domain is presently a new field of research worldwide and claimed that the application of Terahertz imaging tool in such investigations has not yet been employed by any research group.
"Since Terahertz is non-ionizing in nature, its repetitive use in scanning and imaging for screening and monitoring will be harmless to the population and its users such doctors, paramedical team and other security staff in the vicinity in comparison to using X Ray or CT scan device, as both (X Ray or CT scan device) are considered to be ionizing in nature and can cause cancer if repeatedly used for testing on nCOVID patients in future," he said.
To detect the virus at an early stage and help in isolating such individuals by following the principle of social distancing or self-quarantine at their homes for a period of fourteen to twenty days may help in preventing spread of this severe communicable disease. Nevertheless the test for SARS-CoV-2 or COVID-19 are currently in the development stage and are awaiting approval by different regulatory agencies in the form of a EUA or CE-IVD certification.
The researchers said that the use of T-Ray device will be more effective in getting desired reliable information compared to the existing thermal scanners and is considered as the most exciting application offered by the terahertz technology due to its size, ease, cost-effectiveness, and portability of terahertz-imaging unit to allow mass screening.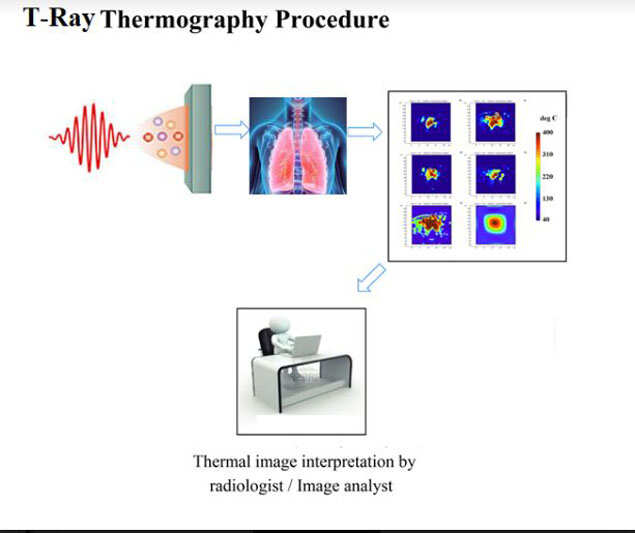 This content was originally published here.